"Devotion to Immaculate Heart of Virgin Mary - the Five First Saturdays Devotion"
"Before the Most Blessed Sacrament cast yourselves into the Heart of my Son and in my Heart and atone for the desecrations, blasphemies and terrible sins of a godless world and for those who have separated themselves from the Body, the Church "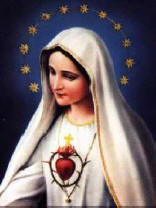 What Is the Five First Saturdays Devotion ?
During her third apparition at Fatima, Portugal, on July 13, 1917, the Blessed Virgin announced that she would come to ask for
"...the Communion of reparation on the first Saturdays."
Thus, on December 10, 1925, the Blessed Virgin, with the Child Jesus at her side, appeared to Lucy in her cell at the Dorothean house of Pontevedra (Spain) saying:
"My daughter, look at my Heart surrounded with the thorns with which ungrateful men pierce me constantly through blasphemies and ingratitude. You, at least, try to console me, and tell people that I promise to assist at the hour of death with the graces necessary for salvation (remark: this promise actually gives you a full guarantee that you won't go to hell)
all those who, on the first Saturdays of five consecutive months:
confess,
receive Holy Communion,
pray at least one decade of the Rosary
and keep me company for at least a quarter of an hour meditating on the mysteries of rosary with the intention of offering me reparation"
On February 15, 1926, the Child Jesus again appeared to Lucy and she presented him with the problem that going to confession on Saturdays was a difficulty for some people and requested that a confession within a period of eight days before and eight days after the first Saturday be valid.
Jesus answered
"Yes, it can even be within many more days, provided they are in the state of grace when they receive Me and have the intention of offering reparation to the Immaculate Heart of Mary."
Sister Lucy further raised the possibility that some people might forget to make that intention when they confessed our lord answered,
"they can make it in the following confession, using the first opportunity they have to confess."
During the vigil that Sister Lucy kept on the eve of may 30, 1930, our Lord spoke in her interior and solved yet another difficulty
"the practice of this devotion will be equally acceptable on the Sunday following the first Saturday, whenever my priests, for just reasons, so grant it to souls."
"... All the Mary's messages that she did not want to become publicly known at once are written in my diary.

I will make them public verbally and in written form when the time comes.

If God for some time gives me the necessary health, I will try to edit all messages into a book form, or somebody else will do it using my diary, which I will give to a very trust worthy person... "
Father Smaverski
To receive the remaining Mary's messages when available please click here now